What is the relevance of the Chinese Ministry of Truth's blockchain ratings?
Well-known in the crypto community, Mr. Huber commented on the report of the Chinese Ministry of Truth for 2018, which identified the best blockchains in the world.
The document, prepared by the CCID Research Institute under the Ministry of Industry and Information Technology, presents a Global Index for evaluating public blockchain technologies. Within its framework, various public networks were ranked based on technological development, functionality, and innovation potential.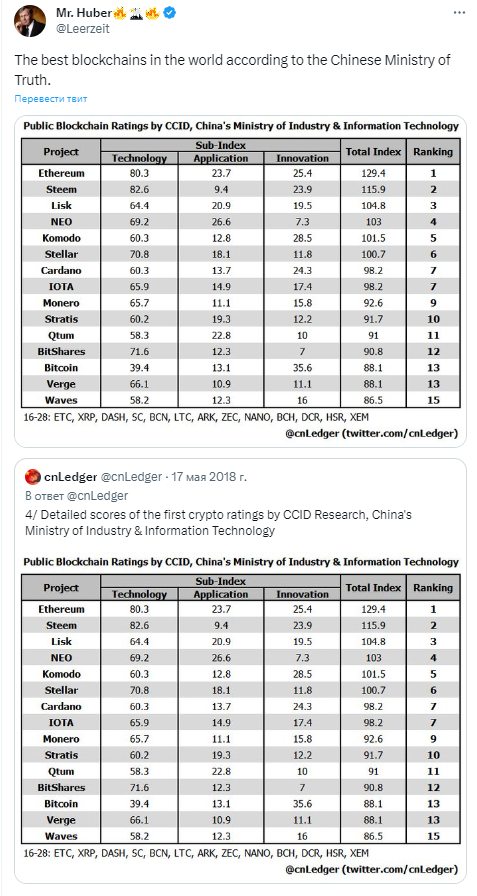 Topping the list of crypto projects is Ethereum, a second-generation blockchain known for its smart contract capabilities with an impressive technology score of 129.4.
It was followed by Steem Chain, Lisk, NEO and Komodo, taking the range from second to fifth place. Surprisingly, bitcoin, which is constantly in the spotlight of the industry, was in a modest 13th place.
The irony is that the integrated assessment took into account such important aspects as the basic technical level, the applied level and the ability to innovate.
Although projects listed by the Chinese Ministry of Truth five years ago still show weak signs of activity, and their tokens are traded on the market, most of them have lost their previous billion-dollar market share.
For example, the market capitalization of Steem Chain, which was listed immediately after Ethereum, as of January 2018 was more than $ 1.5 billion. At the moment, it has fallen to about $ 75 million, which gave it the 300th position among the most significant crypto projects.
The market capitalization of Lisk and Komodo coins remains well below $ 100 million, while Ethereum has maintained its leading position with a market capitalization of $ 228 billion.
At the same time, Steem, Lisk, NEO and Komodo are still traded on the market, while approximately twelve thousand coins have ceased to exist.