Global Cryptocurrency Revenue to Reach $1.1 Trillion
According to the report "Thematic Intelligence: Cryptocurrencies (2023)", cryptocurrency revenues generated by centralized cryptocurrency companies will grow to $ 1.1 trillion in 7 years.
GlobalData predicts that the Metaverse will become a market with a market capitalization of $ 627 billion. The increase in the volume of transactions with cryptocurrencies in 2022 and in 2023 suggests that interest in the crypto industry remains high. GlobalData analysts also identify three companies that are leading in mergers and acquisitions-Coinbase, Binance and Kraken.
At the same time, the report also points out the problems of the crypto market that prevent an increase in revenue.
Global Cryptocurrency Revenues May Increase If Problems Are Resolved
The report points out that high volatility, security concerns and regulatory uncertainty, especially in the US, due to enforcement measures taken by the SEC are the main problems of the crypto market. If they are resolved in the medium term, then the revenue of companies from cryptocurrency can increase even more.
While the market is trying to solve problems, Bitcoin whales continue to accumulate Bitcoins in their accounts.
Bitcoin Whales have Accumulated $ 3.5 Billion worth of Bitcoins
Bitcoin whales have used the low cost of Bitcoin to increase their holdings. Bitcoin whales have now accumulated at least 131,600 Bitcoins (worth more than $ 3.5 billion) in the past 11 weeks, according to data provided by the Santiment platform.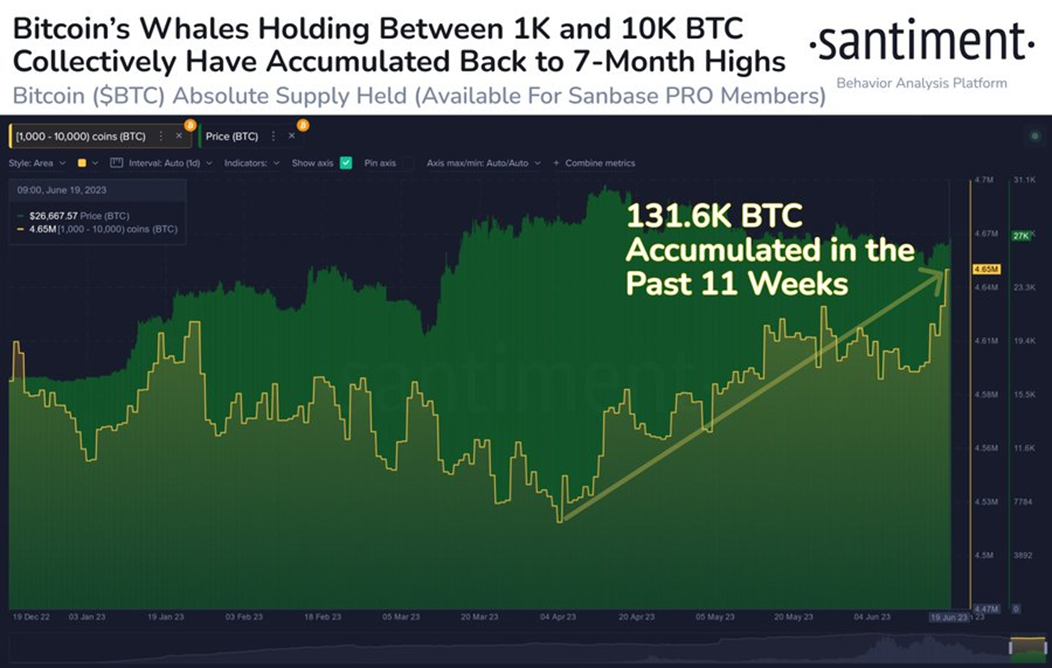 Bitcoin whales have returned their cumulative accumulation levels to seven-week highs. Notably, most of the above accumulation occurred in the last week alone, when Bitcoin holders with 1,000-10,000 BTC added over 60,000 BTC worth almost $ 1.62 billion to their holdings, according to information shared by crypto trading expert Ali Martinez in a tweet posted today. The share of Bitcoin in the turnover of American exchanges has increased from 29% to 44% since the beginning of the year.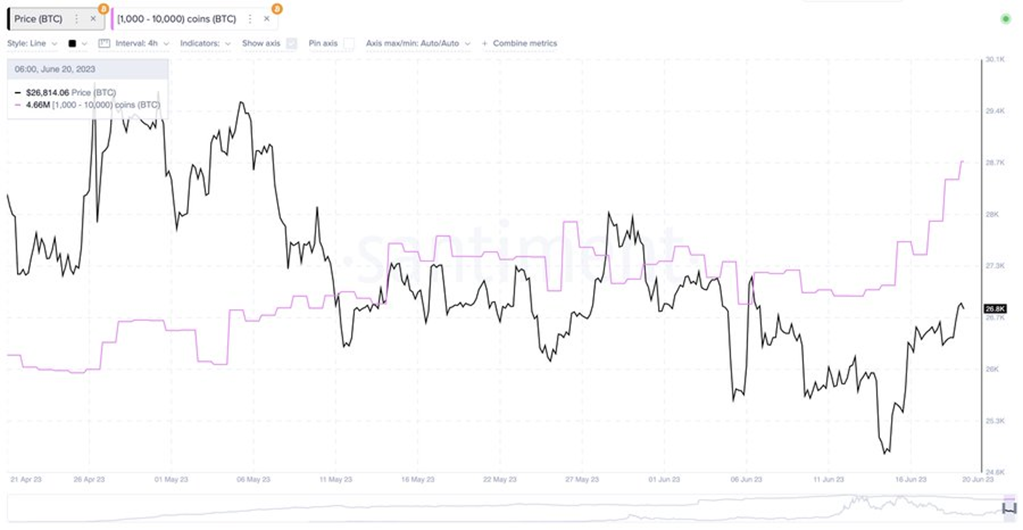 In general, the price of Bitcoin is holding near the $ 27,000 mark, and there is a possibility of a local bullish trend.