Bitcoin News and forecast for June 20, 2023
The price of Bitcoin rose yesterday during the evening trading on Monday Moscow time, while most of the 10 largest cryptocurrencies ytvyjuj lost in value. The outlook for Bitcoin is moderately positive.
The Bitcoin exchange rate increased by 0.94% to $ 27,179. The total capitalization of the crypto market over the past 24 hours increased by 1.1% to 1.17 trillion US dollars, and the market volume increased by 1.2% to 19.92 billion US dollars, according to CoinMarketCap.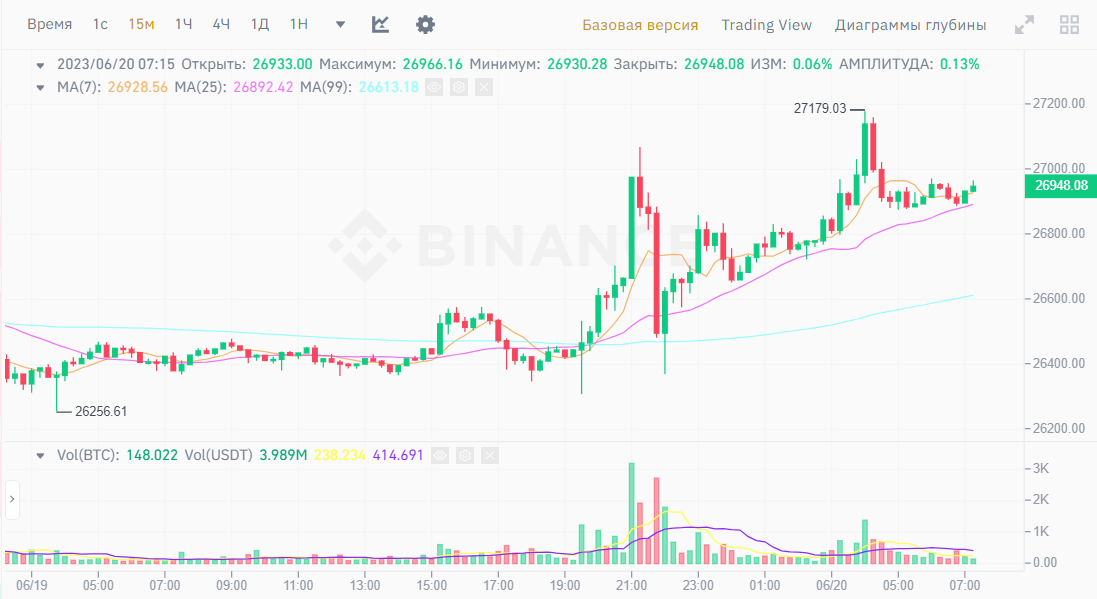 Bitcoin News and forecast for June 20, 2023
The general situation in the markets and its impact on the price of Bitcoin
Meanwhile, major Asian stocks strengthened after investment banking giant Goldman Sachs lowered its 2023 GDP forecast for China from 6% to 5.4%. This comes after JPMorgan, Bank of America and UBS also lowered their expectations for the world's second-largest economy.
Japan's Nikkei 225 index fell 1%, while Hong Kong's Hang Seng Index fell 0.64%. The Shanghai Composite Index declined 0.54 %, and the Shenzhen Component Index declined 0.29%.
U.S. stock futures were in positive territory, with the exception of the S&P 500 futures index, which fell 0.39%. Tech futures on the Nasdaq-100 were up 0.004%, while Dow Jones Industrial Average futures were up 0.75%. The US stock market was closed on Monday due to a public holiday and will open today.
The US dollar index rose 0.24% to 102.5 points, while the euro fell 0.23% to $ 1.09. The U.S. dollar fell 1.2% last week after the Federal Reserve halted interest rate hikes for the first time in a year. Markets now expect another 25 basis point rate hike in July and a pause after that.
The Federal Reserve will meet on July 26 to decide on interest rates, which are now between 5% and 5.25%, the highest level since 2006. The CME FedWatch tool predicts a 28.1% chance that the Fed will keep rates unchanged in July, with a 71.9% chance for another 25 basis point rate hike. Against this background, the price of Bitcoin is within the range of 25 900 – 26 500 dollars with the possibility of a local trend.
What will be the price of Bitcoin in the short term
In the short term, the price of Bitcoin is likely to remain within the existing range– 25 800 – 26 700 dollars. The volatility of the crypto market will be average.
In general, a local uptrend is possible, and the bulls will try not only to maintain the current Bitcoin exchange rate, but also push it above $ 26,500. This is the forecast of Bitcoin.